Why Marleau and the Sharks shouldn't surprise anyone, anymore.
Generally speaking writers are told not to begin work by giving a definition. But as a group we love to "tweak" the rules now and then. Therefore, the following is courtesy of the lovely folks at dictionary.com:
"Engima: 2.  a person of puzzling or contradictory character: To me he has always been an enigma, one minute completely insensitive, the next moved to tears."
The San Jose Sharks have qualified for the Stanley Cup playoffs for the past seven seasons in a row. In five of those seven years they were a top-2 seed in the Western Conference.
In other words, the Sharks have been a phenomenal organization over that span.
However, the Sharks have not once reached the Stanley Cup final during those seven years.
In other words, the Sharks have been a disappointing organization over that span.
Patrick Marleau took over the captaincy with a great 2003-04 season in which he led the Sharks to their first ever Western Conference finals appearance. During that postseason run Marleau scored a hat trick in each of the first two rounds. That said, in round three against Calgary he only had two points in six games.
Since the 2003-04 campaign, Marleau has scored 30 or more goals in five of six seasons. However during the 2007-08 season he deposited a mere 19 and finished the year with only 48 points. He didn't miss any significant amount of games that year, (78 games played) but for some reason he fell 30 points short of his normal standards.
A year later Marleau bounced back with 38 goals but after the Sharks were eliminated from the playoffs in the first round (losing to the eighth seeded Anaheim Ducks) their leading scorer would lose his captaincy. The following season defenseman Rob Blake would don the "C".
Meanwhile, in his first year sans the captaincy since 2004, Marleau goes onto score a career high 44 goals. Go figure, right?
In 14 playoff games Marleau produced a solid 13 points and got better as the postseason went on.  In four games against the Red Wings in round two, Marleau had a point in each game including the series winning goal. But while he would do the same in the following season's round two, his series winning goal was his lone point in that seven games series against the Wings.
Marleau is a three time NHL All-Star and a Gold Medal winner with Team Canada, but he has yet to reach a Stanley Cup final and lost his captaincy.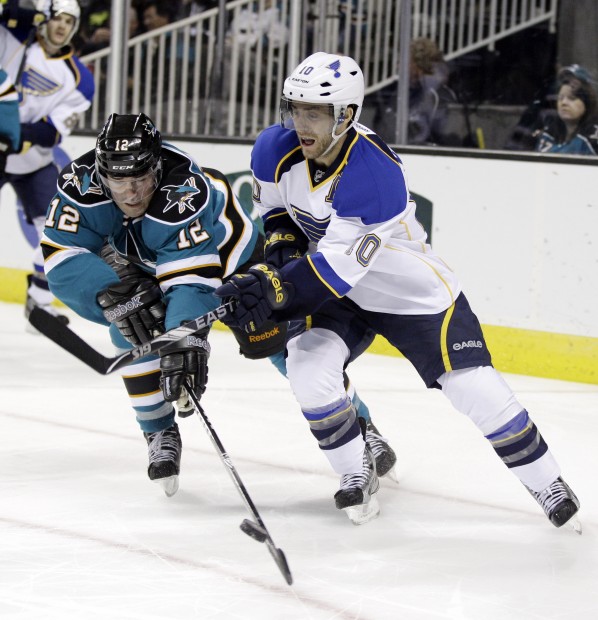 He has been a phenomenal player over his career. He has been a disappointing player over his career.
The Sharks are the definition of an enigma. And it is only fitting that their longest tenured player and top goal scorer is also the definition of an enigma.
Enigma, Jekyll and Hyde, Two-face, they all fit as definitions of both the Sharks and Marleau, who, regardless of what some may say, is still the face of the franchise.
Last season Marleau was named fan favorite of the year in an online ballot on the Sharks website, yet on forums around the web are comments like the following: "before each game my kid plays, I remind him to play like Joe Pavelski, not like Patrick Marleau."
Talk about love/hate from the fans.
However, out here in California it is certainly much more love than hate. As one former east coast columnist pointed out to me recently, Marleau would have been run out of town long ago if he were on a team in the north east like Toronto or Philadelphia.
Yet in San Jose Marleau remains for a 14th season. With 27 goals and eight games left, it would not be surprising if the Sharks winger reached the 30 mark for the sixth time in his career.
And while the streakiness of his offensive production isn't ideal, he still gets the job done more often than most in the offensive zone.
The primary reason why Marleau would have been booted out of an eastern city has nothing to do with offense.
But rather plays like the following back check against the Dallas Stars earlier this month:
If you start the clip at the 2:28 mark, you see Marleau (No. 12 in white) picking up speed at the offensive blue-line back-checking on Dallas Stars forward Jamie Benn. Remember, nobody in the NHL can out-skate Patrick Marleau.
As the play moves forward through the neutral zone, Marleau has the angle to drive Benn into the boards and put an end to the Dallas rush with a potentially crushing hit along the boards. Instead, Marleau attempts to poke the puck away with his stick as Benn stays with the play and keeps skating.
When Benn enters the Sharks zone, Marleau shoulders him lightly but not nearly enough to knock him of the puck. Benn keeps his feet moving and ends up scoring the goal.
Simply put, Benn has no business scoring a goal on this play. If Marleau finishes his check, this goal doesn't happen. As a hockey player you can't control when your goals are going to come but you can control your effort level and determination in finishing off plays.
Plays like the back-check with Benn leave you scratching your head, yet at the same time Marleau's name has been brought up in Selke conversations in years past (the award for best defensive forward) so again, go figure. The Sharks are an unpredictable team led by an unpredictable player.
For as much talent as Marleau and the Sharks have, it is their mental toughness/fortitude/determination that has been and continues to be the question.
It is why Sharks fans should be both confident and worried about their squad's chances to qualify for the playoffs and make a run at the Stanley Cup.
The talent is there, but is the drive there? Is the killer instinct there? If you want to try and boil it down to the simplest of matters, well, hockey is a game of 50-50 battles.
And it's difficult to see the Sharks winning enough of those battles to win 16 playoff games in a single postseason.
Then again, they did just beat the defending Stanley Cup champions, so what gives?
All that's left to say is don't be surprised if the Sharks miss the postseason, or lose in round one, or lose in round two, or three or four or win in round four and parade down Santa Clara street come June.
None of it would be surprising.
Andrew Bensch writes for TheFanManifesto. Follow him on twitter at @AndyBensch

national security council
lakeland high school
insanity workout torrent
adult learning theory
world population clock