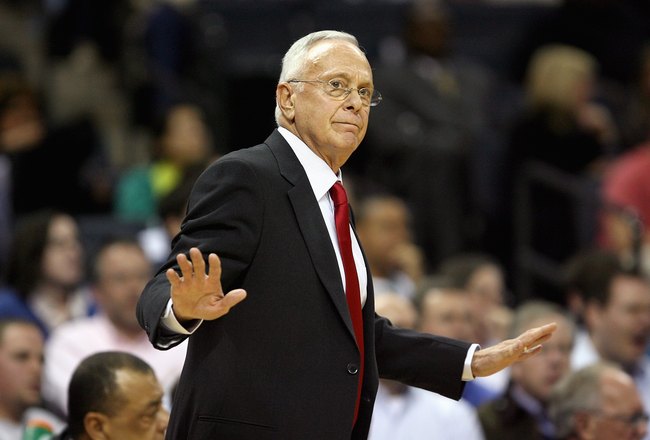 Larry Brown as the head basketball coach at SMU seems like an odd fit, but Joe Healy is convinced it is going to work.
This past week, SMU pulled veteran coach Larry Brown out of semi-retirement and made him their head basketball coach, replacing the fired Matt Doherty.
The move was immediately met with a healthy dose of both amusement and skepticism. If you took a poll among sports media and sports fans alike, I'd be willing to guess most feel the move is bound to blow up in the collective faces of the decision makers in SMU's athletic department.
I tend to lean the other way. I love the hire, if only because I'm all for a school making a bold move to change their fortunes. Beyond that, I think the Larry Brown tenure will be a success.
SMU just has so very little to lose in this case. The program hasn't made the NCAA tournament since 1993. It's also not good news when your best NBA alumnus is Jon Koncak, a player known more for the outlandish contract given to him by the Atlanta Hawks (earning him the nickname "Jon Contract") than anything he actually did on the court.
At the absolute very least, SMU has found a way to get their program in the news. That isn't something that has happened all that often given how poor their program has been of late. I'd be willing to bet SMU basketball has gotten more airtime on traditional sports media outlets in the past week than they have in the past ten years.
But don't make the mistake of thinking this is nothing but a publicity hire.
Larry Brown is a winner. He has won just about everywhere he has gone. Say what you will about Brown being a basketball drifter. A lot of it is probably true. But when he has players, he wins.
That brings us to the recruiting issue. Those that think this is a bad hire will almost unanimously point to recruiting as the reason why.
I will admit that recruiting is a huge part of the equation in college basketball. Just ask John Calipari. But I'm not sure why everyone assumes Larry Brown won't be able to recruit.
Sure, he's old, but so are many of the most successful coaches in college basketball. And I've never bought into the fact that a head coach has to be able to relate to his players. A coach doesn't need to be able to be best friends with a player to be able to recruit him and coach him and if Brown himself is concerned about that, he can hire a younger assistant coach to spearhead much of the recruiting.
Brown himself has done nothing but recruit well when he has been a college coach. It has been a good long while, since 1988 in fact, but success is success.
It's also not like SMU is completely without recruiting advantages when compared to some of their primary competition.
Dallas is a great basketball recruiting hotbed. You can field a very competitive team made up of just the kids out of the Dallas area that the big boys in college basketball passed up.
Dallas isn't a bad city to recruit to either. It's not a tropical locale, but it beats some of the smaller, typical college towns many programs have to recruit to.
Most of all, SMU seems more than willing to do everything it takes to make their athletic programs successful and in major college sports, that's a big part of the battle. They have proven that by pumping money into their facilities and now they have proven it by putting up big bucks to lure an elite basketball coach.
Even if this hire blows up in SMU's face, you have to love the Mustangs' efforts to show that mediocre results from their basketball program isn't going to cut it anymore.
This hire being a disaster isn't something I think SMU needs to worry about, though. Larry Brown is a proven basketball coach on every level. He has won every coaching award basketball has to offer on the college and professional levels, both individually and for his team.
I'm not a betting man, but if I were a betting man, I'd bet on this being the start of a beautiful relationship.
Joe Healy writes for TheFanManifesto. You can follow him on Twitter at @Joe_On_Sports. You can follow the entire Fan Man team here.


corpus christi texas
att yahoo login
dish network careers
dime savings bank
mitt romney news