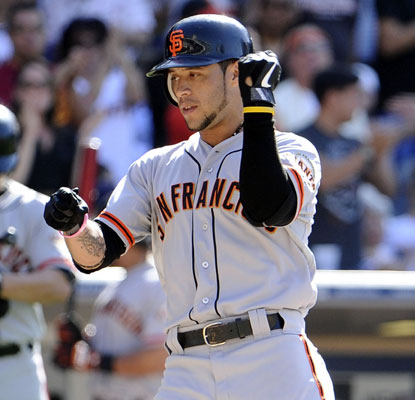 Melky Cabrera isn't the only surprise in the San Fran outfield; Gregor Blanco deserves All-Star recognition for his impressive breakout campaign thus far in 2012.
Kenny Lofton, Marquis Grissom, Jose Cruz. Jr, Ray Durham, Randy Winn, Dave Roberts, Aaron Rowand, and Andres Torres; these are just some of the names that have been etched into the No. 1 spot on the Giants' lineup card since 2002.
Finding a consistent  presence in the leadoff spot isn't any easy thing to do for any team. But over the last decade the San Francisco Giants have failed to find a young position player capable of taking over the leadoff spot and maintaining it.
Fortunately for the Giants, that stretch may be coming to an end as first year Giant Gregor Blanco has come out of nowhere to star as a prototypical leadoff hitter. The former Atlanta Brave and Kansas City Royal has spent 129 of his 139 at bats this season in the leadoff spot, hitting an impressive .288/.390/.468.
Unfortunately for Blanco, his numbers have been overshadowed by a handful of other All-Star worthy teammates. Melky Cabrera is a shoo-in to make the mid-summer classic, Buster Posey is second amongst NL catchers in voting, and you can be certain that the Giants will have at-least three members of their pitching staff make the All-Star roster.
Between Matt Cain, Madison Bumgarner, Ryan Vogelsong, Santiago Casilla, Sergio Romo and even Barry Zito (yes, that Barry Zito), the Giants staff—despite Tim Lincecum's well-documented struggles—is very deserving of three representatives.
Then there's Pablo Sandoval. Despite his injury, the third baseman has an outside chance to make the NL All-Star team.
Angel Pagan has hit safely in all but two of his last 50 games.
And then there is Blanco, the first year Giant who has come out of left field (literally on some nights) to take the reigns as the everyday leadoff man.
While he is just fifth on the Giants in batting average, he is actually third on the team in OPS behind only Cabrera and  Sandoval, and ahead of Posey.
That's right: the Giants leadoff hitter has a higher OPS than their cleanup man. While this probably isn't sustainable, it is certainly fitting of a Giants team that relies on speed, defense and pitching to win ball games. (The Giants currently own third highest winning percentage in NL despite ranking 10th in runs scored.)
While Blanco may not outrank Posey come season's end, the 28-year-old outfielder currently ranks among the most productive leadoff hitters in all of baseball.
His .390 on base percentage ranks a mere second behind only Detroit's Austin Jackson. Furthermore, his slugging percentage is the third highest behind Jackson and the Milwaukee Brewers combination of Cory Hart and Norichika Aoki.
One could argue Hart is not a true leadoff hitter and Aoki doesn't have enough at-bats in the leadoff spot to qualify. Therefore it wouldn't be outrageous to argue Blanco as being second to Jackson in both on-base and slugging amongst leadoff hitters.
Now as for on-base ability, the straight up percentage doesn't even tell the whole story of just how efficient Blanco has been at drawing walks. His OBP may not be as high as Jackson, and his walk totals might not be as high as Miami's Jose Reyes (who leads all leadoff hitters with 29 free passes), but Blanco draws more walks per plate appearance than any other leadoff man in all of baseball. His 24 walks in 164 plate appearances works out to a 14.6% average, significantly higher than that of Jackson (12.5%), Reyes (11.3%), and Chicago's Alejandro De Aza (10.8%).
Blanco may have just six steals in eight attempts on the season, but the Venezuelan winter ball MVP from 2011 has plus-speed. At this rate he will steal 20-30 bags for the Giants — but it's reasonable to believe he has the speed to reach 40 or more if given the opportunity.
Combining elite level offensive capabilities with tremendous range in the outfield and an above-average throwing arm, Gregor Blanco — yes, Gregor Blanco — is doing a reasonable impersonation of a "five-tool" player.
He's currently hitting for average and getting on base (.288/.390), hitting for power (a whopping 40% of his hits going for extra bases), has speed on the bases (six steals, three triples) and has range and good arm in the outfield.
No, he's not Matt Kemp, no he's not Josh Hamilton, and maybe he ends up a one-hit wonder lead-off man like now-met Andres Torres was for the Giants in 2010.
But he's still more than deserving of an All-Star bid and looks to be much more of a complete lead-off hitter than Torres did in 2010.
At the very least, it seems the Giants may have finally found their franchise leadoff man.
Andrew Bensch writes for TheFanManifesto. Follow him on twitter at @AndyBensch