Since enrolling in junior college, Jordan Rodgers has followed his older brother's path. He's about to take one last step. 
(NOTE: A version of this story first appeared in the December 10th edition of The Vanderbilt Hustler.)
Around the corner from Vanderbilt Stadium, just a short walk away from a field that now appears greener with each passing game, Jordan Rodgers prepares for another unlikely celebration. For the moment, he stands off to stage left, hidden amidst a group of much larger teammates, shrouded in his older brother's shadow. All of a sudden, a young fan and his father, football and pen in hand, find him. A year ago, Jordan would have been able to remain anonymous. Not anymore. The floodgates open. He is exposed.
Thankfully, before the hordes can come out of the woodwork and descend on Rodgers' location, the party begins, and The Chancellor is introduced. The Chancellor gives way to the athletic director, and then to the corporate sponsor, and finally to the beloved head coach. Each has a few words to say about this glorious night, one of the greatest in the history of a traditionally sorry Southeastern Conference football program. Then, they cede the podium, and the microphone, to a former junior college quarterback.
"I only got here three years ago," says Jordan Rodgers, confidence spilling off the stage. "I thought it would be great to get a chance to play in the SEC, and compete against some of the best. But I never thought we would be one of the best."
The crowd roars. In this light, he looks more like Aaron than ever.
"We're going to be one of the best."
Journey to the SEC
It's been almost three years since Jordan Rodgers left Butte Community College in his native Chico, Calif., and exactly two days since he stood on stage at Vanderbilt's Bowl Announcement Ceremony. Today, the rain is coming down in sheets, so the Commodores have been released from practice early. Rodgers enters the team facility and begins bouncing down the hallway, a sopping wet bandana holding back his dirty blonde hair, obscuring the most obvious sign of his California roots. Someone asks Rodgers if he should take a shower.
"Why would I want to do that?" he calls out, continuing to skip down the hall before landing right in front of me. He extends his right hand, and I shake it. It is as in need of a shower as the rest of him.
Just now, I begin to understand why one of Rodgers' receivers, Jordan Matthews, describes his quarterback as "extremely loose."
"It's almost crazy," Matthews says. "You expect your quarterback to be really uptight, especially in the huddle. J-Rod is one of the most positive, confident guys I've ever played with. He adds that swagger to our offense."
With that swagger under center, Vanderbilt has gone 10-8, which doesn't sound like much until you consider the team was 7-23 in the 30 games prior.  Even more impressive, Rodgers has led the school to its second consecutive bowl berth, a feat no other Commodore quarterback before him was able to accomplish.
Arguably, no one — with the exception of head coach James Franklin — has played a bigger role in the success of Vanderbilt football over the last two seasons than Jordan Rodgers. Yet, what's more startling is just how close Rodgers came to never playing a down at Vanderbilt.
Jordan led the Butte Community College Roadrunners to the 2008 NJCAA National Championship, the first in school history. A year later, he was recruited to play at Kansas. But when head coach Mark Mangino resigned following allegations of misconduct, Rodgers' scholarship was revoked.
"I really had no options," Jordan says, reminiscing on days spent flipping through Division-I depth charts, desperately seeking a team that could use the assistance of a junior college quarterback. As he outlines his process — "Who had a graduating senior? Who had a bunch of young quarterbacks?" — his mood darkens. The West Coast smile disappears, and the swagger dissipates for the first time all day.
"Then," the 24-year old remembers, brightening up, "I got a call from Vanderbilt."
Rodgers was initially surprised by the school's interest. With a quarterback depth chart stocked with two seniors, a freshman and a sophomore, the Commodores didn't seem to fit the mold of a team in need of a junior college quarterback.
Besides, where the hell was Vanderbilt?
"I probably couldn't have told you that Vanderbilt was in the SEC," Rodgers admits. "I probably couldn't have told you that it was in Nashville. It wasn't even on my radar."
"At the time, I told him it was the best thing that could have happened to him," says Aaron Rodgers, Jordan's Super Bowl MVP-winning big brother and a fellow JUCO transfer from Butte. "I've been to Nashville a few times. Love the city. I just thought it would be a really good fit — a great university academically, and then to be a part of a program that we both thought was on the rise."
Out of options, it didn't take long for Jordan to be convinced. But it wasn't the city or the studies or his brother's advice that eventually lured him to Nashville. He wanted to play among giants.
"I loved the opportunity to play in the SEC. I wanted to play against the best."
Injury and turnover
For a long time, it didn't seem like he would play at all.
Rodgers arrived on Vanderbilt's campus in the early spring of 2010, three weeks after his official visit. When spring practice rolled around, he found himself locked in a quarterback battle with more than one competitor, including incumbent starter Larry Smith. Rodgers was still gunning for the job in the fall when he took a hit in practice and his shoulder gave out. Suddenly, there was no zip on his fastball. Onto the shelf he went, redshirt in tow.
At this point in the recounting, the sullenness returns.
"That was a rough season for me. I had never had an injury that bothered me before that, never missed a game for anything."
Rodgers was disappointed he couldn't compete right away, but even more so that he couldn't help a team that was getting smacked around on the field. In 2010, the Commodores lost 10 games, nine of them by double-digit margins.
"I'm from a winning program," he says. "I'm used to winning in high school. I won in junior college, won the national championship. I only lost a few games in my career at junior college. 2-and-10 was tough."
Indeed it was. Head coach Bobby Johnson — the man who had recruited Aaron's little brother in the first place — retired just weeks before the start of the 2010 season. Interim head coach Robbie Caldwell was shown the door on the morning of the final game of the season, and a year after transferring, Jordan Rodgers was preparing to prove himself to a third head coach.
Part of the new staff was quarterbacks coach Ricky Rahne, who, along with head coach James Franklin, had helped former Kansas State quarterback Josh Freeman blossom into a first round NFL draft pick. Rahne had seen Rodgers play when he was a freshman at Butte.
A lot of time had passed since then.
"I didn't really have a concept of his game," says Rahne. "I knew he worked really hard, and I knew he took it very seriously based on the film study and the questions he was asked. But he was still coming back from a surgery, and he wasn't really able to throw. To be honest, he wasn't really able to do a whole lot."
Nobody knew what Jordan Rodgers was capable of — even Rodgers himself, who was stressed out by the prospect of being overlooked by the new regime.
"I've never played a game here yet," he remembers thinking. "I'm not able to throw the football in spring ball. I'm supposed to still be competing for the job, but I'm not able to show the coaches anything."
"I'm not able to throw the football for the first three-and-a-half, four months that they're on campus."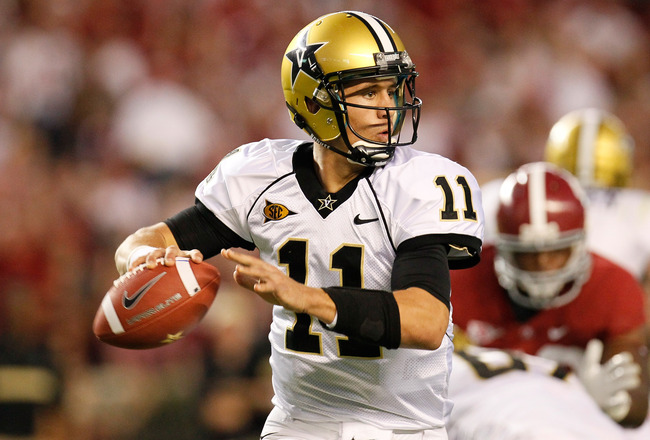 Suddenly the starter
It was a long road back for Rodgers, but eventually, he would return. After losing out on the starting gig — "I don't feel like I deserved the job, Game One" — at the beginning of the 2011 campaign, he appeared in each of the Commodores' first five contests.
"It's a testament to J-Rod that he didn't just get complacent in his role, that he was still in there watching film," Matthews says. "And when the opportunity came, he was ready."
Opportunity reared its head in the fifth week of the season, when the Commodores traveled to Tuscaloosa to play the No. 1 Alabama Crimson Tide. Early on, Larry Smith suffered a lower leg injury, and Rodgers replaced him. Vanderbilt would end up being blown out 34-0, but both coaches and players agreed that Rodgers had displayed poise against the nation's top team.
"That was when I really started to think about it," Rahne says.
The next week, Smith threw two head-scratching interceptions in the first half of a home game against Georgia, and the staff turned to Rodgers once more. In the process of leading the Commodores to a near-upset of the Bulldogs, he racked up 80 yards on the ground and impressed his coaches yet again.
"He got into the Georgia game and sparked us, mostly with his legs," recalls Rahne.
Save for a one-game respite against Presbyterian College this season, Jordan Rodgers has not relinquished his hold on the starting job since.
"I knew my shot would come," says Rodgers, now brimming with confidence. "When it came, it wasn't pretty at times. But we found a way to move the ball, and we found a way to make plays and we came really close to winning that game. We felt like we really should have won that game."
Jordan is talking about playing Georgia last season, but he could just as well be referencing any game he has started. There's been a pattern to his tenure as Vanderbilt's quarterback, a constant sense of ordered chaos that surrounds the offense. As field general, Rodgers is at the center of it all, looking alternatively professional and semi-pro.
In other words, the Commodores rarely make it easy. They march the ball down the field, picking up first down after first down, and end up stalling and settling for a field goal. They move the ball on the first drive of the game, and go three-and-out on the next four. Most frustratingly, they play up to superior competition, yet inevitably fall just short of the signature win Franklin and Rodgers have yet to add to their ever-expanding resumes.
Brotherly love
"I wish I had his athleticism," Aaron Rodgers says of his little brother.  "He's going to run probably in the 4.5 range, I'd guess, at his pro day. I busted my butt to be around 4.7."
During the offseason, the Rodgers brothers sometimes retreat back to Chico, where they lift weights, work on footwork, and trade tips — though, both brothers will not hesitate to remind you most of the advice flows in one direction.
"I like to think I'm more of the teacher in this relationship," says the older Rodgers with a laugh.
Jordan agrees. "I feel like we are very similar players, but mostly because I'm trying to mirror my game after his," he says. "Of course, anybody would want to."
Before every game, Aaron sends Jordan a text, usually telling him to trust his feet.
All offseason, at the behest of his big brother, Jordan worked on his footwork, altering what he was doing both under center and under the gun. He thinks it's paid off.
"It's helped me to be more accurate this season," he says. Whatever the cause, there's little doubt Rodgers has had a better idea of where the ball is going in 2012. Before the season, he set a (somewhat arbitrary) goal of completing 68 percent of his passes. Though he's fallen far short of that number, his completion percentage is still up 10 percent from last year.
Rahne has also noticed improvement on the mental side of the game, where Rodgers seems more positive than ever.
"Before, he put a lot of pressure on himself," Rahne says. "Sometimes his mistakes would bother him. Now, he understands mistakes are going to happen."
"If he just goes out there and does the exact same thing he's done for the last six weeks, he's going to like the way his career ends."
What happens next?
On New Year's Eve, nine days after the three-year anniversary of his transfer, Jordan Rodgers will play in the Music City Bowl against North Carolina State. The game, which takes place just down the road from Vanderbilt Stadium, will be the final appearance of his college career and his final crack at the big win that has eluded his team up to this point. The drubbing of Tennessee was a landmark win for the program, but a win over NC State would be his first against a team with a winning record.
As Jordan prepares for one last unlikely moment in the spotlight, his big brother hopes to offer guidance in person. The Packers are playing the Vikings in Minnesota the previous afternoon, so Aaron — who's only started one game at LP Field — is not yet sure if he will be able to make it to Nashville in time for kickoff. But he's going to do his best.
"Family first, right?" Aaron says. "I need to get down there and watch my little brother."
No matter the outcome, and no matter what advice Aaron imparts, Jordan has taken his last final exam. He is ready to graduate. The Music City Bowl will be his final game as a Commodore, and perhaps his last on the big stage he has come to savor.
After following Aaron's path to stardom step-by-step, Jordan knows he is not his brother. After winning at every level thus far, he has no allusions about the difficulty of playing at the next one.
"I love playing football, so I look forward to the opportunity to play, continuing to play, whatever that looks like," he says. "It might not be the NFL, it might be somewhere else. I'm going to continue to exhaust my options."
For three years, Jordan Rodgers has chased his childhood dream, from one coast almost all the way to the other. He has played at some of the most storied stadiums in the SEC, won more games than anybody could have reasonably expected and helped resuscitate a dormant program.  Along the way, he's slowly crept out of his brother's massive shadow.
Ever since he decided to leave Butte, all he has done is exhaust his options.
Why would he stop now?
Jesse Golomb is the Editor-in-Chief of TheFanManifesto. You can follow him on twitter @TheFanManifesto, or drop him a line via email at JesseGolomb@TheFanManifesto.com.