Continuing his series of 2012 college football bowl previews, Joe Healy previews the Bridgeport Education Holiday Bowl.
If the Las Vegas Bowl was a game between two teams that were a bit disappointed  with their regular seasons, the Holiday Bowl is a game between two teams that should be really proud of how things have gone.
There were many that figured that Baylor would go right back to being a doormat after Heisman trophy-winning quarterback Robert Griffin III moved on. The thought was that their play had been thanks to one transcendent player. I will admit that I was a member of this group and I was dead wrong.
Even though no one can really replace RGIII in Waco, Nick Florence came about as close as anyone could. All he did was throw for 4,121 yards and 31 touchdowns. He also finished third on the team with 531 rushing yards and second on the team with nine rushing touchdowns.
The leaders in the rushing game are Oregon transfer Lache Seastrunk and Glasco Martin. The pair rushed for 874 and 791 yards this season, respectively. The duo combined for 18 touchdowns on the ground.
The biggest playmaker on offense isn't any of these guys, though. It's wide receiver Terrance Williams. The senior from Dallas caught 95 passes for 1,764 yards and 12 touchdowns.
As a unit, the Baylor offense finished third in the nation in passing yards, 19th in the nation in rushing yards and fifth in the nation in points scored per game.
The problem for the Bears was defense. They finished 117th in the nation in points allowed per game. They gave up 34 or more points in a game eight different times this season.
The lack of defense will be troublesome against a potent UCLA offense.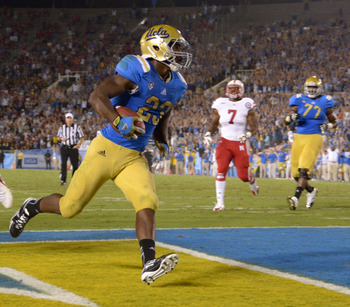 Senior running back Johnathan Franklin picked up where he left off in his junior season. In the regular season, he rushed for exactly 1,700 yards with 13 touchdowns.
The biggest factor in UCLA's success on offense this year, however, is probably the development of quarterback Brett Hundley. The redshirt freshman that inexplicably sat behind Richard Brehaut and Kevin Prince all last season broke out this season for 3,411 passing yards and 26 touchdowns all the while completing 68.2% of his passes. For good measure, he also found the end zone nine times on the ground.
The Bruins defense isn't anything to write home about, but they are a big step up from the Baylor defense. They finished 55th in the nation in scoring defense. Linebacker Anthony Barr leads the way with 20.5 tackles for loss and 13.5 sacks. His cohort in the linebacking corps Eric Kendricks leads the team with 137 tackles.
Both teams are going to score points. That's a given. But I'm guessing the winner here is going to be the team that manages to get stops on defense and UCLA is more equipped to do that.
Joe Healy writes for The Fan Manifesto. You can follow him on Twitter at @Joe_On_Sports. You can follow the entire FanMan team here.