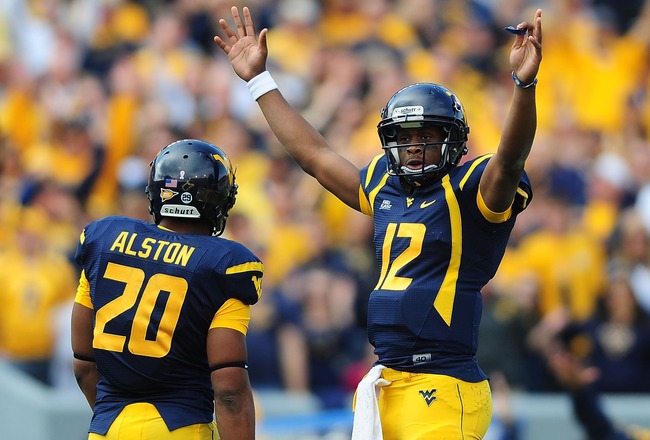 Continuing his 2012 bowl previews, Joe Healy previews the New Era Pinstripe Bowl.
It really is fitting that this game is going to take place inside Yankee Stadium.
You see, Yankee Stadium is home to baseball's New York Yankees. The Yankees have long been known as the Bronx Bombers and throwing bombs is exactly what I expect both quarterbacks in this game to do.
Most college football fans know about West Virginia's Geno Smith. Before the Mountaineer's disappointing slump at the end of the season, Smith was the Heisman frontrunner. He was putting up video game numbers week after week as his team laid waste to the first five teams on their schedule. Smith's masterclass performance came in West Virginia's 70-63 win over Baylor. It was in that game that he threw for 656 yards and eight touchdowns.
All told, Smith ended up throwing for 4,004 yards and 40 touchdowns while completing over 70% of his passes. Even while his team was falling apart, he was getting the job done.
The problem, and the reason West Virginia finished 7-5 and not in the national championship discussion, was the defense. As a unit, they finished 116th in the nation in scoring defense. In particular, stopping opposing passing games was the problem. The Mountaineer defense finished 117th in passing defense, giving up 327.1 passing yards per game.
The quarterback who will benefit from facing that West Virginia defense, and the guy in this game that you may not have heard as much about, is Ryan Nassib.
The senior quarterback from West Chester, Pennsylvania finished the regular season with 3.619 yards and 24 touchdowns. He also has a knack for playing well in his team's biggest games. In games against Northwestern, USC, Rutgers and Missouri, Nassib threw for 482, 322, 356 and 385 yards, respectively.
Unlike Smith, you don't get the feeling that Nassib has to beat teams on his own, though.
Running backs Jerome Smith and Prince-Tyson Gulley help keep the offense balanced. Smith has rushed for over 1,000 yards and the duo has a combined ten touchdowns on the ground.
The Syracuse defense also isn't too shabby. It's not great, sure, but compared to the West Virginia defense, they look like the '85 Chicago Bears. Linebacker turned defensive end Brandon Sharpe leads the way with 13.5 tackles for loss and six sacks. Not to be outdone, linebacker Dyshawn Davis chipped in with 13 tackles for loss.
To me, this is one of the more underrated bowl games this year. I'll grant you that this is just a game between two 7-5 teams and that, most of the time, the defensive play will be on par with the average youth flag football game, but it's going to be a lot of fun. It's too close for me to call a winner, but I can guarantee you that the viewers at home will be the real winners here .
Joseph Healy writes for The Fan Manifesto. You can follow him on Twitter at @Joe_On_Sports. You can follow the entire FanMan team here.