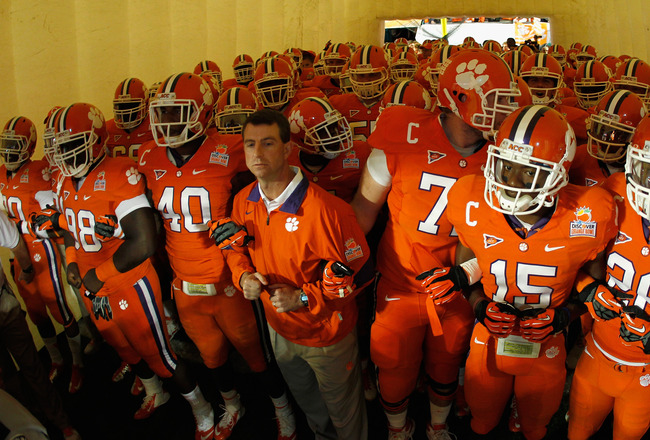 Continuing his 2012 bowl previews, Joe Healy previews the Chick-Fil-A Bowl.
If contrasting styles make for the most interesting bowl games, the Chick-Fil-A Bowl will be right up there with the best games of the entire bowl season.
On one side, you have the physical, defensive-minded LSU Tigers.
When they're playing well, you know exactly what you are going to get from LSU. They are going to be fast and physical on defense and even the best offenses in the nation are going to struggle against them.
Take, for example, their game this season against Texas A&M.
Johnny Manziel had already begun to build a case that he should be in the mix for the Heisman Trophy when LSU rolled into town. All LSU did was force Manziel into having his worst game of the season. He threw three interceptions and gained only 27 rushing yards on 17 attempts.
This Tiger defense is without a brand name star like they had last season with Tyrann Mathieu, but they are still stocked with top-flight talent. Kevin Minter leads the team with 111 tackles and 13.5 tackles for loss. Sam Montgomery has managed 12 tackles for loss and a team-leading seven sacks. Tharold Simon leads the team with four interceptions.
What held LSU back this season, as it has in seasons past, is the offense.
Although he came on late in the season, Zach Mettenberger was not the savior that LSU fans had hoped he would be. He threw for just a shade under 2,500 yards and 11 touchdowns, which isn't bad but also isn't all that good.
LSU features a whole stable of capable running backs, but none of them really stood out from the others. Jeremy Hill leads the team with 651 yards and ten touchdowns. Most disappointing in the running game was Spencer Ware. There was hope that he would be the featured back in this offense, but he wasn't able to manage an average of four yards per carry and he finished fourth on the team in total yardage on the ground.
The Clemson Tigers are everything on offense that LSU isn't. They feature a quarterback, Tajh Boyd, that can beat teams just about on his own. The junior from Hampton, Virginia threw for 3,550 yards and 34 touchdowns, all the while completing two-thirds of his passes.
Boyd might be able to do it on his own, but he certainly doesn't have to do it on his own. Running back Andre Ellington is a dynamic rusher. In the regular season, he rushed for 1,031 yards and eight touchdowns. Receiver DeAndre Hopkins might be the most electric player on the team, however. Hopkins has 69 catches for 1,214 yards and 16 touchdowns.
They may not be LSU on defense, but the Clemson defense holds their own. They rank 48th in the nation in scoring defense. They aren't going to shut down the best offenses in the nation, but they made a habit this season of stopping the teams they were supposed to be able to stop.
It's for that reason that I'm picking Clemson. I think they'll be able to stop LSU's offense. I don't think their offense will go wild against the stout LSU defense, but I think they'll be more than capable of putting up enough points up to win the game.
Joseph Healy writes for The Fan Manifesto. You can follow him on Twitter at @Joe_On_Sports. You can follow the entire FanMan team here.