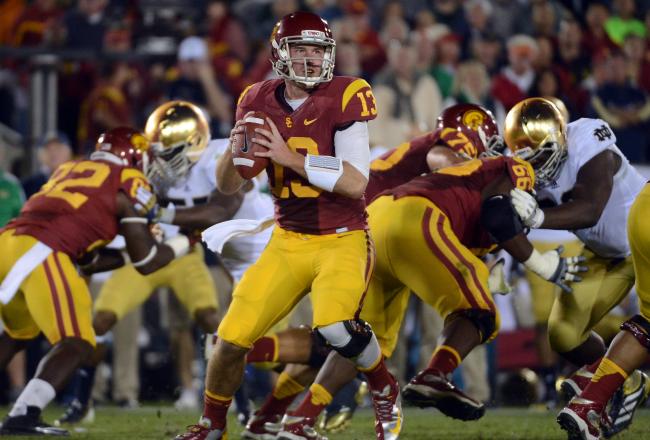 Continuing his 2012 bowl previews, Joe Healy previews the Hyundai Sun Bowl.
For both of these teams, the 2012 season could be described as disappointing. Of course, that's a relative term.
USC came into the season as a favorite to win the national championship. Even during their years on probation, they had continued to recruit well and they were going to feature a possible Heisman trophy-winning quarterback and possibly the best wide receiver duo in the country. They went on to fall on their faces and finish 7-5.
Georgia Tech didn't have any real national title aspiration, but as has been the norm under Paul Johnson, they were expected to win eight or nine games and challenge to win the ACC. Technically speaking, they challenged to win the ACC because they made it to the ACC Championship game, but that had more to do with luck than being good. They were 6-6 coming into the ACC title game.
They ended up losing the ACC championship game to Florida State and had to get the NCAA to sign off on a waiver for them to get into a bowl game because they were 6-7 after that loss to FSU. Had Miami not self-imposed a bowl ban and opened up a spot for an ACC team, it's likely they wouldn't have been in a bowl game at all.
The biggest thing going for the Yellow Jackets is that they are tough to prepare for. As he did at Georgia Southern and Navy, Paul Johnson runs a triple-option offense. They may not have the elite athletes that some SEC schools feature, but because they run an offense so dissimilar to any offense most teams see all season, they can score on just about anybody.
Running the triple-option attack for GT is Tevin Washington. This season, he has thrown for 1,173 yards and rushed for 638 yards. All told, he accounted for 26 touchdowns, seven through the air and 19 on the ground.
Their offense is nothing if not democratic, however. Six different players rushed for over 400 yards on the season led by Orwin Smith with 673, Washington's 638 and Zach Laskey's 637.
The problem for the Yellow Jackets is that they have had a lot of trouble stopping opposing offenses. They average giving up just a shade under 30 points per game and they got gashed for huge numbers on several occasions. Most notable, to me at least, they gave up 49 points in a loss to Middle Tennessee State, a team that finished their season 79th in the country in scoring.
I don't have to tell you who the big players are in USC's offense.
Quarterback Matt Barkley, the possible Heisman winner I alluded to in the introduction, is a blue-chip player who likely will be a high draft pick in this upcoming draft. Marqise Lee was supposed to be one half of the best receiver combination in the country and he certainly held up his end of the bargain here. Robert Woods was the other half of that receiving duo and coming into the season, there were those that thought he was the better of the two.
If healthy and playing, these three would be the best players on the field in the Sun Bowl. But that's the catch.
Matt Barkley has announced that he will not play in the Sun Bowl due to injury. Marqise Lee has said that he will play in the game, but he injured his knee earlier this week in practice and there's no telling how close to 100% he'll be come game time. Robert Woods will be playing and is healthy as far as we know, but he had something of a ho-hum season by his standards and there are rumors that he is going to announce after the game that he is foregoing his senior season and entering the NFL Draft. Who's to say that he won't be more focused on that than this relatively meaningless bowl game?
The saving grace for USC might be running backs Silas Redd and Curtis McNeal. Redd leads the team with 817 rushing yards and nine touchdowns. McNeal has chipped in with 696 yards and a 6.2 yards per attempt average.
Their defense isn't bad, either. They rank 43rd in the nation in scoring defense and feature more than their fair share of elite athletes. Defensive end Morgan Breslin has been a beast this season with 18 tackles for loss and 12 sacks. In the back end, a host of players chipped in. Eleven different players picked off at least one pass.
I can't believe I'm going to do this, but I'm picking Georgia Tech. They will be looking to show that they are better than their record would indicate and I think the combination of all of USC's injuries, their distractions and their disappointment in being in the Sun Bowl will just be too much to overcome.
Joseph Healy writes for The Fan Manifesto. You can follow him on Twitter at @Joe_On_Sports. You can follow the entire FanMan team here.