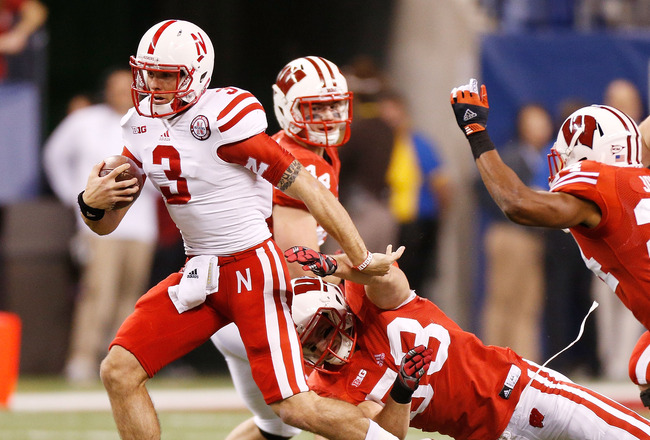 Continuing his 2012 bowl previews, Joe Healy previews the Capital One Bowl.
There are a small handful of non-BCS bowl games that have been anointed must-see games for college football fans and this Capital One Bowl has rightfully been named one of those.
I'm intrigued if for no other reason than I'm curious to see what state of mind the Georgia Bulldogs will be in. After they came this close to beating Alabama in the SEC championship game, it would be easy for them to suffer a letdown, but I can't see that happening. Head coach Mark Richt has a veteran group on his hands. They will be eager to come out and show that they could easily have been playing for the national title.
The Georgia offense is flush with elite offensive players (more on that in a minute), but it's clear that quarterback Aaron Murray is the leader of this team. After a couple of very solid years as Georgia's starting quarterback, Murray took another step and established himself as an elite quarterback in 2012.
He set career highs in yardage (3,466), yards per attempt average (9.72) and completion percentage (65.4%). He threw 31 touchdowns compared to 35 last year, but he cut down his interceptions from 14 last year to just eight this year.
Georgia features five receivers that caught at least 21 passes on the season, but Tavarres King is the undisputed big-play receiver. King has 39 catches for 846 yards. That works out to an absurd 21.7 yards per catch.
Keeping the offense balanced is running back Todd Gurley. The freshman sensation has rushed for 1,260 yards and 16 touchdowns. Keith Marshall is a fantastic second option on the ground. He has 723 yards and eight touchdowns.
Defensively, Georgia is just about as good. They rank 17th in the nation in scoring defense. Jarvis Jones is one of the more fierce defensive players in the country. All he did this season was tally 22.5 tackles for loss and 12.5 sacks.
The Bulldog defense will be one player short, however. Defensive tackle John Jenkins has been ruled academically ineligible and will not be available.
If you have followed Nebraska at any point in the past, you know what to expect from this team. Sure, they don't run the option like they did in their heyday under Tom Osborne, but they still prefer to do their damage on the ground.
Quarterback Taylor Martinez is just as big a threat on the ground as he is through the air. The veteran starter has throw for 2,667 yards and rushed for 973 yards on the season. All told, he has accounted for 31 touchdowns, 21 passing and 10 rushing. Ameer Abdullah is the leading rusher on the team with 1,089 yards.
The Huskers don't feature a brand name defensive player up front like they have in the past with players like Ndamukong Suh and Jared Crick, but they still have their fair share of talent.
Defensive end Eric Martin is a force to be reckoned with coming off the edge. The senior from out in California leads the team with 16 tackles for loss and 8.5 sacks. In the secondary, veteran Daimion Stafford leads the team with four interceptions and finished second on the team with 89 tackles.
I really like the improvements Taylor Martinez has made as a quarterback and leader. I also always hope that Nebraska succeeds because college football is better when they are good. But I can't pick them here. Georgia is a national title-type team even if they didn't end up in that game and I imagine they will play like it against the Huskers.
Joseph Healy writes for The Fan Manifesto. You can follow him on Twitter at @Joe_On_Sports. You can follow the entire FanMan team here.