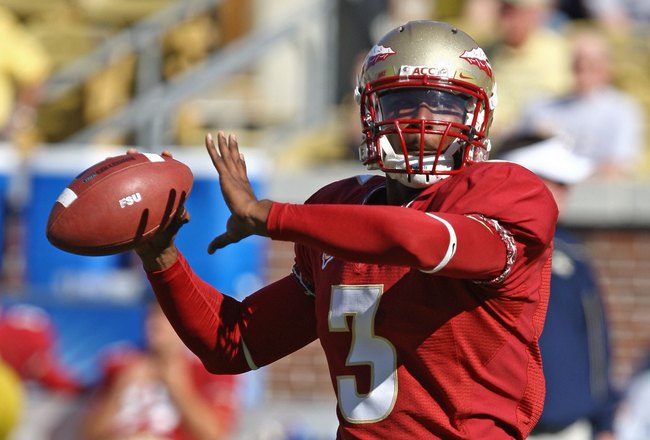 Continuing his 2012 bowl previews, Joe Healy previews the Discover Orange Bowl.
The Orange Bowl is giving us our biggest David vs. Goliath bowl game.
On one side, you have the Florida State Seminoles, one of college football's most storied programs. On the other side,  you have the Northern Illinois Huskies, a solid, consistent program from the Mid-American Conference.
I haven't seen anyone that is picking Northern Illinois to win, and I probably won't either, but I think they will give FSU a good game.
The Huskies are in this game for a reason. They went undefeated in a pretty competitive conference, they went out and played a pretty good non-conference schedule and most of all, they can score points on just about anyone.
I can almost guarantee you that NIU quarterback Jordan Lynch is the best player you've never heard of. I don't know that any quarterback had a better season. In addition to throwing for 2,962 yards and 24 touchdowns, Lynch ran for 1,771 yards and 19 touchdowns. He didn't have any games where he threw more interceptions than touchdowns and he only had one game where he ran for fewer than 100 yards. He had a touchdown of some sort in every single game this season.
If Lynch shows well in this game, it will catapult him right into the way too early conversation for the 2013 Heisman trophy.
When Lynch looked to throw the ball, he looked to Martel Moore early and often. The senior from San Antonio, Texas led the team with 71 catches and 1,054 yards.
Their defense is pretty good, too. They rank 18th in the nation in scoring defense. Part of that equation is that they don't play in a major conference, but they can only play the teams on their schedule, so it's hard to penalize them too much for that.
The defensive line trio of Alan Baxter, Sean Progar and Joe Windsor make the life of opposing quarterbacks difficult. They tallied 9.5, 8.5 and seven sacks, respectively. When quarterbacks do have time to throw the ball, the Huskies can go and get it. They have 11 different players with interceptions.
Florida State came into the season as a dark-horse national championship contender. They featured a ton of veterans on both sides of the ball and their defense was prepared to take back its place as one of the very best in the nation.
They weren't quite a national title contender, but they had a very good season and their defense was every bit as good as advertised. If one team is equipped to keep up with and stop Jordan Lynch, it's Florida State.
If they have their way, Bjoern Werner and Cornellius Carradine will be in Lynch's face all night. Werner, a native of Germany, leads the team with 18 tackles for loss and 13 sacks. He also has seven passes defended, which tells you that he is very good at getting his hands up and deflecting passes at the line of scrimmage. Carradine has 13 tackles for loss, 11 sacks and is second on the team with 80 total tackles.
Offensively, Florida State was just good enough. Senior E.J. Manuel had a solid season with 3,101 yards and 22 touchdowns, but he didn't quite reach the heights that many thought he would reach when he became the starter several years ago.
On the ground, the Seminoles are led by a host of running backs. Chris Thompson, Devonta Freeman and James Wilder, Jr. rushed for exactly 1,900 yards and 24 touchdowns between them.
Northern Illinois has more going for it than you would think. Any time you have a quarterback capable of the things Lynch is, you have a puncher's chance. You also have to take into account the fact that Florida State has a tendency to play down to their competition. If they have convinced themselves that NIU doesn't deserve to be on the field with them, they might find themselves in a close game.
I'm still picking FSU, though. I think NIU keeps with them up until halftime or a little after, but the Seminoles will pull away late because of the talent gap alone.
Joseph Healy writes for The Fan Manifesto. You can follow him on Twitter at @Joe_On_Sports. You can follow the entire FanMan team here.