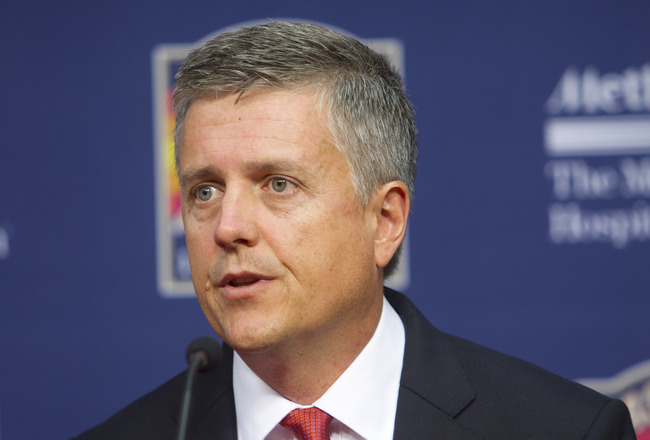 Some Astros fans are upset about the trade of Jed Lowrie, but Joe Healy thinks it's just another part of the rebuilding process.
On Monday afternoon, the Houston Astros came one step closer to achieving their goal of fielding the most anonymous team in the history of Major League Baseball.
Shortstop Jed Lowrie, one of the few veteran assets the Astros still had, was dealt along with reliever Fernando Rodriguez to the Oakland Athletics for three minor leaguers, pitcher Brad Peacock, first baseman Chris Carter and catcher Max Stassi.
This is nothing new for Astros fans. The last two years have basically been one giant garage sale for the franchise. Lance Berkman, Roy Oswalt, Hunter Pence, Carlos Lee and Michael Bourn have all been jettisoned for minor league prospects.
Although it's never all that much fun for fans to see their favorite players sent packing, I think most smart, informed fans understood why the team was doing what it was doing. The Astros needed to get younger and cheaper in order to properly rebuild the team.
But for some, this most recent trade doesn't fit in with the others.
At 28 years of age, Lowrie is still relatively young. As a shortstop, he also plays a premium position. And his 2012 numbers of 18 doubles, 16 home runs and 42 RBI in under 400 at-bats are really solid for his position. Most importantly for a team like the Astros, he came cheap.
I can certainly understand why some fans aren't thrilled with the deal, but I think those fans needs to step back, take a deep breath and take a look at the big picture.
As nice as it was to have a solid player in Lowrie, he's not a franchise building block and that's what the Astros are shopping for. There's a reason Lowrie hasn't been able to crack 400 at-bats in any one season since he's been up in the big leagues. Actually, there are two reasons.
The first is that he can't stay healthy. Lowrie spent much of 2009, part of 2010 and a significant chunk of 2012 sitting on the bench with various ailments.
The second is that he hasn't quite produced enough to be trusted with an everyday job. He has a career batting average of .250, a career on-base percentage of .326 and a career OPS of .743. If you're a believer in sabermetrics, Lowrie has had all of one season where his WAR was higher than 1.5. Those numbers aren't bad, particularly when you consider his position, but they are numbers you could expect to replicate, or almost replicate, with any number of other players.
And let's get real about his age. He's 28, not 24. The Astros aren't going to be ready to compete at least until 2015. By then, he'll be 30. That's certainly not old, but in shortstop terms, unless your name is Omar Vizquel, that's on the downside of your peak. Will he still be the plus defensive shortstop he is now for more than a couple more years? I'm not sure I would want to gamble on that and find out.
For me, though, the most telling commentary on Lowrie's potential is the trade that was made to bring him to the Astros. The Red Sox spent their 2012 season shuffling between journeyman Mike Aviles and nondescript youngster Jose Iglesias at shortstop. Then-Red Sox GM Theo Epstein isn't a dummy. If they thought he was the next big thing at shortstop, why were they so eager to trade him (and another player) to the Astros for a run-of-the-mill reliever in Mark Melancon?
If that's not enough to swing the opinion of the doubters, I think the prospect haul the Astros got in return might help.
The centerpiece of the deal, in my mind, is pitching prospect Brad Peacock. Peacock is coming off of something of a lost year in the minors, but I'm not too alarmed. He was pitching in the hitter-friendly Pacific Coast League and he got better as the season went on, which I would much prefer to a pitcher wearing down as the season goes on. Just two seasons ago, Baseball American ranked him as a top-50 overall prospect and in a statement after the trade went down, the Astros mentioned that they see Peacock as a future number two starter. If that's the case, that's a guy you can start to build around.
The second-best piece is a power-hitting first baseman in Chris Carter. Carter put up almost identical totals to Lowrie in doubles, homers and RBI in 2012 in over 100 fewer at-bats. He's also going to walk a lot more than Lowrie. Sure, the Astros have Jonathan Singleton, another power-hitting first baseman, in their system, but thanks to the Astros being in American League now, one can be the first baseman of the future while the other can be the DH of the future.
The third player, catcher Max Stassi, isn't going to get too many people excited, but he profiles as a plus defensive catcher, he's only 21 years old and he has actually improved as a hitter as he has progressed through the minor leagues.
Look, Astros fans. I understand you're tired of this rebuilding process. It's not particularly fun. You're ready for your team to start winning.
You just have to remember where this team started to appreciate where they are headed. Just two years ago, the Astros had one of the highest payrolls and worst records in the game. On top of it all, they had one of the very worst minor league systems in the league. It doesn't take an expert to figure out that that's not a good formula for success.
Now, the farm system is flush with top-flight prospects. The payroll is low enough that the team will have a truckload (or two) of money to throw at some free agents to compliment the prospects once some of the prospects start to produce.
The guys that are running this thing know what they are doing. Trading a slightly above average shortstop and a middling reliever for a future number two starter, a player with 30 home home run potential and a 21-year old plus defensive catcher is just the next step in this process.