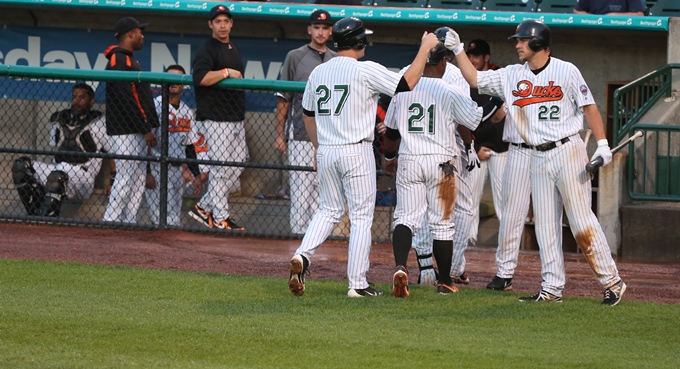 Baseball fans are often saddened by seeing their heroes hanging on too long, but Joe Healy doesn't mind.
Gather 'round while Joe tells a story, everyone.
A ballplayer, past his prime but still convinced that he has something to give to his team and to the game, looks past all the criticisms and his physical limitations and continues to play the game he loves if for no other reason than he doesn't know anything else and he wants to continue playing.
In a hypothetical sense, that sounds like the makings of what could be an uplifting story, doesn't it?
But when that actually plays out in baseball, more often than not, it is looked at as sad or desperate.
The classic example is Willie Mays in his last couple of years with the New York Mets. It has become such a cautionary tale that it is referenced every time we feel that an athlete has held on to long. The quote is always something along the lines of "I just don't want it to be like Willie Mays staggering around the outfield for the Mets."
More recently, Rickey Henderson is an example of this. After a very nice career with the Athletics and Yankees, Henderson hung on for several more years and played for the Padres, Angels, Mets, Mariners, Red Sox and Dodgers before ending his more than 20-year career as a player in Major League Baseball.
But he wasn't done. Henderson spent three more years playing in independent minor leagues with the Long Island Ducks and San Diego Surf Dawgs. It wasn't until 2007 that Henderson officially announced his retirement from the game and even then, he left us with a very Michael Jordan-esque quote about his retirement: "If it was a situation where we were going to win the World Series and I was the only player that they had left, I would put on the shoes."
Then there is Jose Canseco. The much-maligned former MLB slugger has been notoriously stubborn about his retirement from the game.
Since his final regular season appearance in a big league game in 2001, he has played for (deep breath) the Newark Bears of the independent Atlantic League, the San Diego Surf Dawgs (remember them?) of the Golden Baseball League, the Long Beach Armada of the Golden Baseball League, the Laredo Broncos of the United Baseball League, the Yuma Scorpions of the North American League, the Quintana Roo Tigres of the Mexican League, the Worcester Tornadoes of the Canadian American Association of Professional Baseball, the Rio Grande Valley WhiteWings of the North American League, the Fort Worth Cats of the United League and now he is back in Mexico with the Broncos de Reynosa.
We've been conditioned to view these scenarios as "sad," but I don't think it's sad at all.
In the cases of Mays and Henderson, they continued to play because they thought they still had something to give and they loved the game. I suppose you could make an argument that Canseco has other reasons, like money and a need to stay in the public eye, but there are a lot of other ways to accomplish that. If he really wanted to, he could set up shop, Pete Rose-style, at some memorabilia store or baseball academy and sign autographs for eight hours a day. Call me crazy, but on some level, I think Canseco is still in the game because he genuinely loves playing baseball.
To me, that's a beautiful thing. We always yearn for athletes to play the game with as much passion as we all did as kids and to play because they love the game, but when a player reaches a certain age and is playing games in front of 1,500 people instead of 40,000 people, that no longer seems to apply.
Albert Chen of Sports Illustrated wrote a fantastic piece on the Long Island Ducks in the May 20th edition of the magazine that I felt echoed what I feel about the situation.
The Ducks have become something of a go-to franchise for players looking to give it one last shot. Juan Gonalez, Carlos Baerga, Edgardo Alfonzo, Carl Everett, Jose Offerman and John Rocker have all played for the Ducks. Currently, Dontrelle Willis, Ian Snell, Ramon Castro, Bill Hall, Ben Broussard and Josh Barfield are all on the roster.
In the piece, Castro says that everyone in the clubhouse is hungry and that nothing is taken for granted. Chen mentions that after getting a game-winning hit from a first baseman that had been signed earlier in the day, the Ducks dugout went nuts as if they had won the World Series. For someone who loves to play the game, that sounds like a team that you would want to be a part of.
Then, Castro said it all. "We're all having fun. We all just want to keep playing until no one wants us anymore."
If that sounds sad to you, I don't know what to tell you.
Joe Healy writes for The Fan Manifesto. You can follow him on Twitter at @Joe_On_Sports. You can follow the entire FanMan team here.